Are thinking about starting a new Beekeeping business or a hobby?
I guess you have already read about the basics of Beekeeping and learned some important facts about Bees and how to harvest your honey from the hive.
In this article, we will list the top Beekeeping Starter Kit to start the process, even before ordering, receiving your bees ( workers and Queen Bee )
What's Beekeeping Starter Kit ?
The First step now is to prepare your Beekeeping by buying the essential Beekeeping Tools and Equipment.
You can find the list of the most important Tools in The Guide to Beekeeping Equipment Names and Pictures.
Once you are familiar with the functionality of each Beekeeping Tool, I recommend buying a Full Beekeeping Starter kit.
The Starter Kits usually, contains all the equipment you need to start harvesting your bees.
The Kit should contain:
Hive Smoker
Scraper
Brush
Feeder
Fork
Frame Grip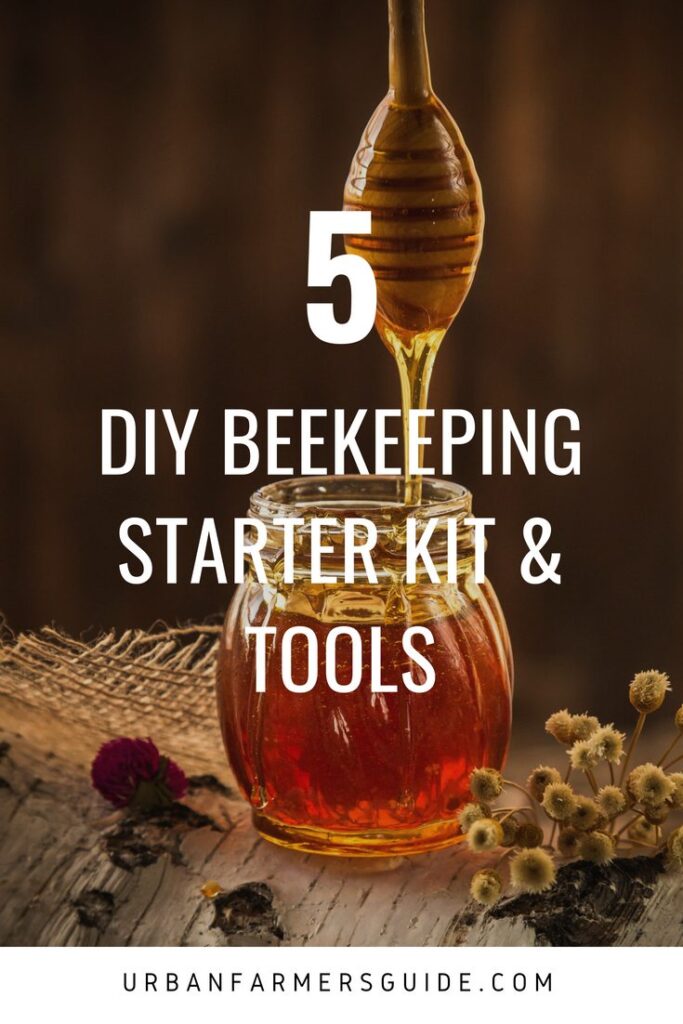 Top 5 Beekeping Starter Kits
Here is our Selection for the Top 5 Starter Kits for DIY Beekeeping
Basic Beekeeping Starter Kit, Completely Assembled, Painted
Completely assembled and ready for bees
Kit includes one painted 10 frame 9-5/8-inch assembled hive body, ten 9-1/8-assembled wood frames with yellow waxed RiteCell foundation, painted bottom board with entrance reducer, and painted telescoping cover with inner cover
Also contains one large pair of economy leather gloves, one Alexander bee veil, one smoker with guard, one hive tool, and the Starting Right with Bees book
Measures 22-inch length by 18-1/2-inch width by 13-1/7-inch height
Blisstime Beekeeping Tool Kit Set of 6 Bee Hive Smoker, Bee Brush Beekeeping Accessory -Bee Keeping Tool
Bee hive smoker:New redesigned beehive smoker with wider and durable botton made from stainless steel.
The brush is used to separate bees from their honey frames. After removing the frame, you give it a quick shake to dislodge most of the bees, then brush the excess off the honey comb using the bee brush.
Use this tool instead of your finger tips,Grasps onto the top bar of a frame making pulling frame from your beehive a breeze.
The feeder can quickly and easily be refilled without disturbing your colony!
The Blisstime Beekeeping Starter Kit Tool contains:
1 pc-UNCAPPING FORK TOOL, 1 pc-Bee Hive Frame Grip
1 pc-Synthetic Bee Hive Brush
1 pc- Bee Hive Tools, 1 pc-Mini Beekeeping Entrance Feeder
1 pc-Bee Hive Smoker Stainless Steel – Small
Navadeal Beekeeping Tools Kit – 6 Pcs -Hive Smoker, Scraper, Brush, Feeder, Fork, Frame Grip
EASY TO USE- The tools are in small size and easy to carry, so they can help you a lot with beekeeping.
GREAT STARTER KIT- With this 6pcs tools kit, you are able to start beekeeping at ease. Start now and enjoy it!
GOOD QUALITY- These products are made of stainless steel, wood and plastic. All materials are sturdy and of high quality.
PRODUCT INFORMATION- Bee Hive Smoker Stainless Steel, Extracting Scraper, Mini Beekeeping Entrance Feeder, Synthetic Bee Hive Brush, Uncapping Fork Tool, Bee Hive Frame Grip
LIFETIME WARRANTY- Buy with confidence! We are proud of our quality and after sale service. If you are not obsessed with your Beekeeping Tools Kit whatever the reason may be, just let us know as we offer lifetime satisfaction 100% money back guarantee!
Pack of 7 Beekeeping Equipment Bee Brush/ Uncapping Fork/ Queen Catcher/ Hive Tool / Spur Wire Wheel Embedder / Frame Grip / Queen Marking Cage With Plunger:
Queen Marking Cage With Plunger
Queen Catcher— Plastic hair clip type
Bee Brush—Fine quality with pure pig bristle and plastic handle
Hive Frame Holder—Sturdy effective tool for removing the frame
Hive Tool— 'J ' shaped — special iron steel, perfect to separate hive boxes, pry out frames, and scrap wax and propolis off of your bee boxes and frames
Uncapping Fork— Sturdy moulded plastic with sharp tines
Spur Wire Wheel Embedder—Stainless steel and wood for secure a thin layer of foundation wax into each timber frame
Actopus Beekeeping Kit – Pack of 7pcs Hive Tool:
Material: Plastic,metal,wood
Queen Marking Cage With Plunger Bee Brush
Fine quality with pure pig bristle and plastic handle Uncapping Fork
Sturdy moulded plastic with sharp tines Queen Catcher— Plastic ,'hair clip' type HIve Frame Holder
Sturdy effective tool for removing the frame Hive Tool
'J ' shaped with special iron steel,perfect to separate hive boxes, pry out frames, and scrap wax and propolis off of your bee boxes and frames Spur Wire Wheel Embedder
Stainless steel and wood. Use to secure a thin layer of foundation wax into each timber frame
Package includes: 1Pc x Queen Marking Cage With Plunger 1Pc x Bee Brush 1Pc x Uncapping Fork 1Pc x Queen Catcher 1Pc x Hive Frame Holder 1Pc x Spur Wire Wheel Embedder 1Pc x Hive Tool