In order to get honey from your beehive, you have to be able to extract the honey from the honeycomb. In order to do this, you have to have a honey extractor.
There are manufactured honey extractors available on the market, they typically cost approximately $200 to $300, the average cost of starting a new hive of honey bees.
Mutualize Honey Extractor
If there is a group of beekeepers in an area they will sometimes pool their money together to purchase a honey extractor that they share.
If you are not in a large beekeeping environment and do not want to spend a few hundred dollars on a manufactured honey extractor you might want to make your own.
Read also The Guide to Beekeeping Equipment Names and Pictures and The Basics of Harvesting The Honey: How to collect Honey
Materials needed to build a Honey Extractor
The materials you will need to build a honey extractor include;
a metal rod that is at least one meter long and is thickly threaded,
two bicycle wheel rims,
two pieces of wood,
one meter of 2-3mm fencing wire,
a large metal drum,
ten bolts for the metal rod,
four 400mm sections of 8mm threaded rod,
a self centering bearing,
six coach screws, and
one pillow block bearing.
How to choose Metal for Honey Extractor DIY
When choosing a large metal drum for your homemade honey extractor make sure that is was never used to store potentially toxic materials.
The tools you will need for constructing your honey extractor include; an electric drill, a welding machine (and preferably some welding experience), a socket set, and a hack saw.
Step by Step to Build Honey Extractor DIY
The first thing you're going to do is remove the end of the drum that does not have two pouring holes, the newly opened end will be the top of your honey extractor.
Use the coach screws to attach one of the pieces of wood across the bottom of the drum.
Once the wood is in place use coach screws to secure the pillow block. After inserting the threaded rod through the center of the first bicycle rim, securely bolt the rim to the rod approximately ten centimeters from the end of the rod.
At the opposite end of the rod, you will want to thread a but for the other wheel, the second wheel will rest on this nut.
When both of the wheel rims are in place you will want to drill holes in four spots around each wheel, when this task is complete you use the 8mm rods to lock the wheel rims together.
Use two nuts onto the rod. Make sure that two cm of rod protrudes.
When this is complete you are going to cut a slit that is10mm deep and 3mm wide into the end of the rod. After this thread the lock the nuts together at the end of the rod.
After you think the nuts are in place use the welding machine to permanently lock them into place.
Fasten the wire to the spokes of the bottom wheel rim, approximately 5-8cm from the rim. You have now successfully made the basket of your honey extractor.
Take your newly crafted extractor basket and place it into the drum, settling it on the pillow bearing. Now you're going to want to bolt the second piece of wood to the sides of the drum and the self-centering bearing.
After drilling a screwdriver bit into the chuck, place the chuck into the slit into the slot at the top of the threaded rod.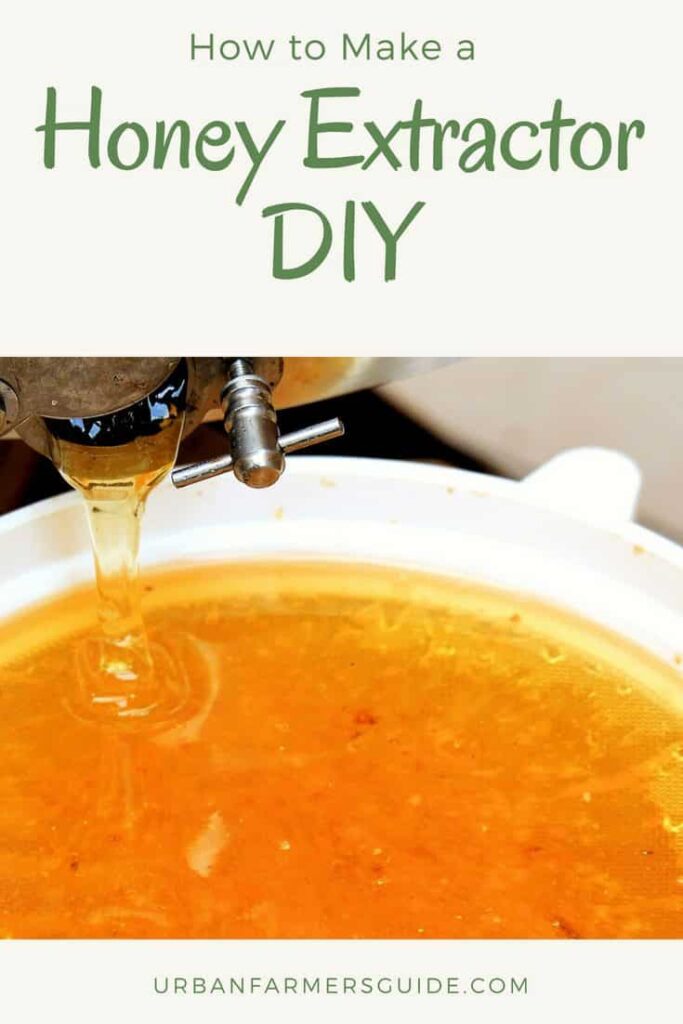 The Best Ready 5 Honey Extractors
---
Enhance your beekeeping experience with VIVO's honey strainer (BEE-V101H) featuring a double-sieve to progressively filter out debris. The double straining allows you to process a smooth, consistently light-colored liquid that doesn't solidify as quickly as unstrained honey.
Made of stainless steel material, this product measures approximately 9 inches in diameter and 4 inches in depth.
Double Stainless Steel Filter System
This quality strainer is designed with two separate screens for effective honey filtering and is made of 304 stainless steel which is durable, highly resistant to rust and oxidation, and easy to clean.
Adjustable Arms
The arms extend to perfectly fit over your uncapping tank, 5-gallon bucket, or pail.
Inner Screen
This product's inner screen fits smoothly inside the strainer to help create a consistent light-colored liquid.
---
New economic four-frame honey extractor from VIVO! Made from Stainless Steel, this durable machine saves you time and energy as you extract honey. The drum is 23.75 inches tall with an 18.5-inch diameter.
The bottom inside of the drum is conical shaped and drains honey to the 2-inch outlet with a stopper/honey gate. Two top-side clear lids keep debris out while the honey is draining.
The outside comes in a stainless steel polished finish. The BEE-V004B will fit shallow, medium, and deep frames.
Stainless steel with metal gears
Total Height: 41.5 inches
Drum Height: 23.75 inches, Drum Diameter: 18.5 inches
Clear plexiglass lid for easy viewing
The distance from the honey gate to the floor measures 15.25″. Holds four to eight frames.
---
Brand New Electric Four-Frame Honey Extractor from VIVO, perfect for all levels of beekeeping!
The solid extractor body is constructed of 304 Stainless Steel. The BEE-V004E has a drum height of 24 inches and 41.5 inches with the mounted legs. It has a diameter of 18.5 inches.
Electrical Features:
Features include a quiet 120V AC motor (runs off standard 110V AC wall power) with a built-in cooling fan.
Safety feature built into the lids causes the motor to shut off when either lid is opened and automatically turns back on once they have been closed again.
Outside Features:
The double-sided top lid is made of clear plastic for easy viewing during honey extraction and is fit with a magnet to conveniently hold the lid open.
The stainless steel has a beautiful polished finish on the outside.
The extractor's long legs will easily fit over 5-gallon buckets.
Inside Features:
The bottom of the extractor is cone-shaped creating efficient honey drainage through the 2-inch honey gate.
The inside basket can fit 8 small or medium frames, or 4 large size frames at once.
---
Solid Material– This honey extractor is made of smooth stainless steel, very durable and solid. It can be used for a long period of time. Really save your time and money.
Large Capacity– This durable two-frame honey extractor fits shallow, medium, and deep frames. It will definitely save your time and energy as you extract honey, which can basically meet most people's needs.
Clear Plastic Lids– The cover is composed of clear plastic, which can provide easy viewing when you extract honey.
Rotating Handle– The handle contains a spring clutch that can crank the gears and will not spin once released. It is very convenient for you to operate.
Easy to Assemble and Clean– All assembly hardware is included. Clear and brief instructions make it much easier to put together. With the stainless steel tank, it is convenient for you to clean with warm soapy water and it is not easy to rust.
---
This 4/8 frame honey extractor from Honey Keeper is constructed from rust-proof, #304 stainless steel and is ideal for a beekeeper with several hives.
This easy-to-use piece of equipment can handle 4 standard deep, 8 medium, or 8 shallow frames.
The legs are made of stainless steel and can be bolted to the floor, and raise the barrel so the honey gate is 19 inches off the ground or remove the legs for tabletop use.
This makes it much easier to use and is designed so that a 5-gallon bucket will fit underneath it for draining. This extraction unit features clear plastic lids for easy viewing, sealed bearings and steel gears that make spinning nearly effortless, and a very simple assembly.
Two handles are included: one is a standard handle and one is a specially designed handle that contains a spring clutch that can crank the gears and will not spin once released. The stainless steel tank is easy to clean with warm soapy water.
The dimensions are 45 inches high by 27.5 inches wide (including the handle).