Use Edible Flowers: Edible flowers work great in a range of recipes, from soups and stews to salads.
But their vivid colors and pretty appearance can also help you create a whole new level of interest and flavor as you produce more exotic-looking dishes, or use the flowers as vibrant garnishes.
Here are a few ideas for using your edible flowers.
Different Ways to Use Edible Flowers
Ice Cubes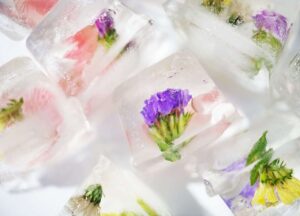 Place a flower or two in each compartment of an ice cube tray.
Add water and freeze.
Add to clear drinks.
Also uses fresh flowers as garnish.
Depending on what flowers you choose, they can add a lemony tang, taste of cucumber, and more.
Popsicles
Add flowers to your popsicle containers, fill with liquid, add the stick and freeze.
You can have a colorful array of sunny-looking popsicles laden with flowers and interesting tastes, such as lemon mint or lavender.
Lollipops
You can make your own lollipops with sugar syrup and sticks. Try to find one perfect flower per pop.
You can then arrange them on a stand and dazzle people with the colors.
Candied Petals
Candied violets have been used for centuries, both as a sweet treat and as an elegant way to decorate cakes.
Create a box of your own to pass around when guests come, or give as gifts.
Jellies/Turkish Delight
Clear gelatin and some sugar can be the foundation of vividly-colored jellied candies. You can also add rosewater and rose petals if you like, to make your own Turkish delight. Make a tray of it, chill well, and cut into small squares.
Toss the squares in some powdered sugar to stop them sticking together.
Find here List of Edible Flowers and Herbs.
Cake Decorations
Fresh or dried edible flowers can dress up any cake. You can also use candied flowers. Some people use buttercream frosting and place the flowers around the top and sides of the cake.
Other cooks use fondant icing, a soft sugar paste that you roll out until it is large enough to cover the cake you wish to frost. Consider scattering flowers and petals onto the fondant as you give it a last roll out before you place it on top of the cake.
Use edible flowers as charming cupcake toppers. You can also make frosting from the flowers, such as rose.
Use Edible Flowers in Cookie
Make your usual sugar cookie dough. Roll it out, cut into cookies, and roll a fresh flower into the top of each cookie.
Use a variety of blossoms and you will be able to create a stunning-looking cookie platter.
Garnish for Serving Platters
Garnish can really make your platters stand out, such as cheese and fruit or dessert platters.
Cocktails
Some liquors can be enhanced with flowers, such as adding them to a bottle of vodka.
You can also create various syrups out of edible flowers to add color, flavor and consistency to cocktails and mocktails (you can use seltzer instead of alcohol in most cases).
Teas
Some edible flowers and botanicals like hibiscus and rose hip are actually the basis for most commercial herbal teas on the market, so you can have fun experimenting with different blends.
The most basic herbal tea can be made with fresh or dried chamomile flowers.
It is pretty, and good for the digestion.
Yogurt Parfaits
Layer the flowers with layers of yogurt, and perhaps some granola or nuts, for a light, refreshing dessert or breakfast.
Use these and your own ideas to brighten up your dishes with edible flowers.