When one has a greenhouse, it means that one never has to quit gardening just because of weather conditions.
You can keep on propagating cuttings and seeds and grow several plant varieties whatever the season.
Choosing The Right Greenhouse Design
When choosing a greenhouse, select a greenhouse-style that matches the design of your home and the layout of your garden.
Weather conditions should also be taken into account, as when your area experiences heavy snow during the winter, most likely you will not select a flat or straight roof design, rather a roof that will allow the snow to slide off easily.
The standard free-standing with curved or peaked roof greenhouse up to now is very popular that can be found in so many gardens.
The rectangular or square shape permits for utmost growing space for plants, usually designed with benches on the sides and at the back.
Lean-to or home or wall attached greenhouses designs are manufactured and used when there is limited space in the backyard.
These greenhouse designs are very accessible and convenient for connecting much-needed water and power supply.
Read also 9 Points Check List to Build Your Own Greenhouse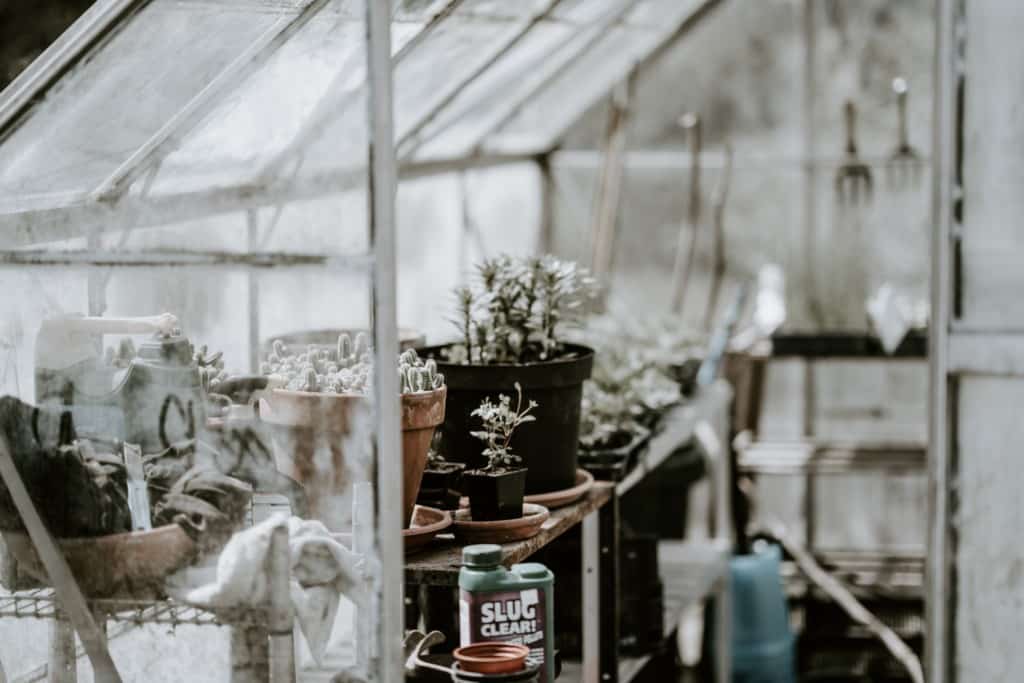 When choosing a certain design in the market, the "sky's the limit".
Small solariums of various designs are widely available, medium and large-sized greenhouses and even prefabricated greenhouse kits for easy installation.
The most common Greenhouse Designs
Here are some greenhouse designs:
1. Gable Greenhouse
This design type usually is attached to a wall or garage or any structure utilizing only half the gable's actual gable design.
Generally, this type has flat roof panels but slightly sloping and vertical sidewalls.
At times, the gable types of the greenhouse are also attached to another greenhouse employing the use of the end wall rather than sidewall.
---
2. Barn Style Greenhouse
This design type is, as the name suggests shaped similar to a barn having a wide roof and interior and with shorter walls. This design is usually incorporated in a garden of country setting or theme or a rustic garden appeal.
This greenhouse design can be attached to another greenhouse or can be beautifully constructed in a garden freestanding.
---
3. Dome Greenhouse or Quonset Greenhouse
This design is identical to a dome, meaning it is half a ball and placed directly on land.
This design can not be attached to a structure and only can be constructed as a freestanding type of greenhouse, as this design has no sidewalls.
This type of greenhouse is a bit expensive to make due to the many pieces of different glazing that generally are needed to complete this design shape.
---
4. Gothic Style Greenhouse
This Greenhouse design type has a very historical gothic appearance. The walls and roof are formed in such a manner as to create a continuous form, allowing snow to fall down easily.
This design type can be either attached or freestanding, however, it is usually not recommended attached except when your home's design is very much similar to a gothic design.
Some facts about Gothic Greenhouse Design
5. Hoop greenhouse
This type of design is constructed with a metal pipe or PVC to make the hoop's shape then enclosed with a plastic covering.
This type of design is very cost-effective on your initial purchase, but the maintenance of continuously replacing the cover (plastic) can really add up.
GreenHouse Design Made Materials
One will find that the majority of greenhouses are manufactured from aluminum material that is weatherproof and lightweight.
Galvanized steel also is sturdy and lightweight.
Wood can also be used, but one has to make sure to use lumber that has been pressure treated such as redwood or cedar because these are weather resistant.
Read also The 10 must-have Productive Greenhouse Equipment.
Greenhouse Design Features you should consider
As to whatever greenhouse design should you decide on, be sure to look for a structure with the highest strength and stability and must have these features:
Will be cable to endure extreme weather conditions, like very high winds and snowfall build up.
Should have the necessary support for
grow lights,
sidewall shelving and
Should have an intricate detail of having hinged screened storm doors as well as large side or individual roof vents.
The door may be easily adjusted to be dropped or lowered into the foundation's opening so as to get rid of an elevated step when you feel that it is needed.
A wide selection of styles and sizes is offered. Keep in mind that costs can limit your greenhouse size, however, extensions can later be added when needed and when you already have enough budget for it.
Take note that often, most greenhouse owners complain of limited space when they built their greenhouse on a budget.
So whatever design you choose, just remember to get the largest that your money can buy.
Books To Consider To Choose/Build your GreenHouse
Unlock new growing opportunities and increase your property value with an outdoor conservatory.
In this illustrated guide, Roger Marshall shows you how to build your own greenhouse using simple, easy-to-follow techniques.
Covering everything from selecting a site to glazing glass, Marshall includes tips on laying a foundation, construction materials, ventilation, and much more.
Whether your goal is to stretch the growing season or create a lush space for a year-round hot tub, you can build the greenhouse of your dreams.
One of the hottest consumer trends is the new importance of outdoor living, and nothing brings the outdoor home to life like a greenhouse and other accessories to help grow and nurture landscape greenery.
This book has plans and step-by-step for constructing and appointing greenhouses of several varieties, from glass-wall to hoop house; some from kits, some from scratch; also includes plans and steps for other garden structures and accessories.
Includes projects suitable to homes and landscapes of all types?" urban, suburban, and rural.