Growing flowers and herbs in the same pot, also referred to as container gardening, can be a fun and interesting hobby with a huge benefit for your health and wallet: delicious and nutritious ingredients for your favorite recipes.
You can explore new recipes as well, once you have a steady supply of flowers and herbs.
Growing Edible Flowers and Herbs in the Same Pot
The real question is how best to grow them. You can line everything up in little Same pots on your ledge or window box, or you can plant in combination.1. Planting in Combination
Planting in combination can create attractive displays. And if you choose plants that go well together, they will make the most of the soil by not competing for the same minerals.
Looking how to cook with Edible Flowers, check Cooking with Edible Flowers and Herbs.
Planting flowers and herbs together for a particular use also means you have everything in one place when you want to create a recipe.
It also helps with harvesting, so you make the most of what you've planted by regularly going around your containers in rotation to snip the top portions of the plants to use them fresh, or to dry for later use.
When planting in combination, there are several important elements to consider if your plants are to live in harmony together and thrive.
Tips To Consider
1# The Right Container
Some plants will do well in small pots, others will start to crowd themselves and any other flowers or herbs they have been planted with.
Follow all instructions on the seed packets.
2# The Right Soil
Some herbs can grow well in any soil, while others need a richer soil.
In general, good-quality potting soil should be ideal for most plants, but again, check the seed packet for specific instructions.
3# The Right Moisture and Drainage
Some plants are thirstier than others and prefer wet soil. Others need a drier soil with good draining.
This can be a delicate balancing act. Remember, if the herbs and flowers are too wet, they can develop mildew and will be unusable.
4# The Right Light
Some plants require direct sunlight, and plenty of it. Others thrive in shade, and some also love cool, dark places.
Combine ones that have a similar light requirement, and of course, be sure you place your container in the right place in your home or garden so they can thrive.
Useful Combinations of Flower/Herbs
The following combinations will help you create tasty recipes.
Bouquet Garni Herb Garden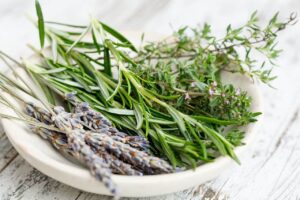 Bouquet garni is used to flavor soups and stews. It is a combination of herbs wrapped in cloth and tied with a ribbon. You discard it before eating.
You can grow all the herbs you need in a 20-inch pot (or larger if you wish).
Plant rosemary, thyme, sage, and small bay laurel.
Harvest as needed and dry for future use if you wish.
Ice Cream Herb Garden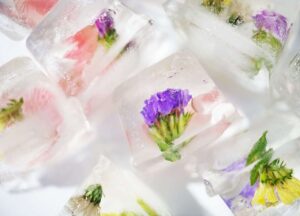 You can make your own delicious ice creams and sorbets using edible flowers and herbs.
In a 20-inch or larger pot, plant anise hyssop, lemon verbena and rose geranium.
For sorbets, try mint, thyme and lemon verbena.
Note that mint will take up as much room as you give it.
So plant it in a smaller pot first and then transfer to the container.
Mexican Herb Garden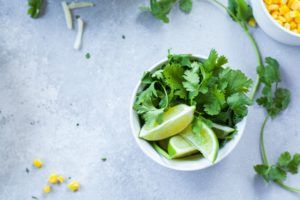 If you love Mexican food, this container garden will keep you supplied with all the essentials.
Get a 20-inch pot and plant cilantro, oregano and thyme.
You can also add parsley, either curly or flat-leaf, which has a stronger taste.
In Mexican Herb Garden, the must-have Mexican herb plants jump out immediately are: Cumin Cilantro Oregano Mint …
Lemonade Garden
There's nothing more refreshing than homemade lemonade. Enhance its taste and appearance with herbs.
In a 20-inch Same pot, plant lemon balm, lemon mint, and lemon basil.
Pizza Garden
This outdoor container garden is sure to be family favorite. Get a 22-inch or larger pot and place it close to a wall or a trellis.
Add bush tomato plants, which will eventually start to grow upwards on the trellis. Add oregano and basil, for all the makings of your own homemade sauce for pizza and pasta.
Check https://www.almanac.com/content/companion-planting-herbs for useful herbs and combinations.